28th June 2019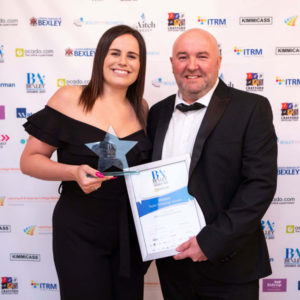 Taylor Technology Systems is delighted to have received the Tech Innovation of the Year Award at the Bexley Business Excellence Awards 2019.
Taylor Technology Systems won the award after being Highly Commended for the same category in 2018. Judges recognised Taylors' hard work and dedication to creating an innovative business culture, and how it "works closely with clients, partners and suppliers to improve and share knowledge for the greater benefit of their customers".
Judges also highlighted a testimonial Taylors has received from one of its largest clients as part of the reason why they deserved to win the award. Their client, a nationally recognised brand, described TTS as being "big enough to deliver to all our requirements, while always being small and flexible enough to really care about our contract and to provide a first-class level of service that is over and above many of their competitors that we've worked with".
The Award was presented to Commercial Director Brian Wickes in front of 350 people at an Awards ceremony on 27th June 2019. On receiving the award, Brian said: "We're a medium-sized enterprise company that specialise in security systems, we've built our team from local people; majority of them from Bexley. Our success is about our culture and attitude, our beliefs, our people and our staff. We promote quality and professionalism, and that's what keeps us growing. When you start to analyse all your clients and the people you work with, you realize it's all about relationships."
The Awards were held at the prestigious Hall Place & Gardens in Dartford, and were hosted by TV presenter Michael Underwood.