Taylor Technology Systems (TTS) are proud to have been awarded the BOSCH Outstanding Achievement Award for their Southeastern railways 'IP Upgrade' Project. The award was presented to Mark Heath by James Nicolson, District Manager for BOSCH Security Systems. James said, "We're delighted to award Mark Heath with BOSCH's Outstanding Achievement award for their installation of our BVMS equipment on Southeastern Railways Infrastructure, contributing to a safer customer experience"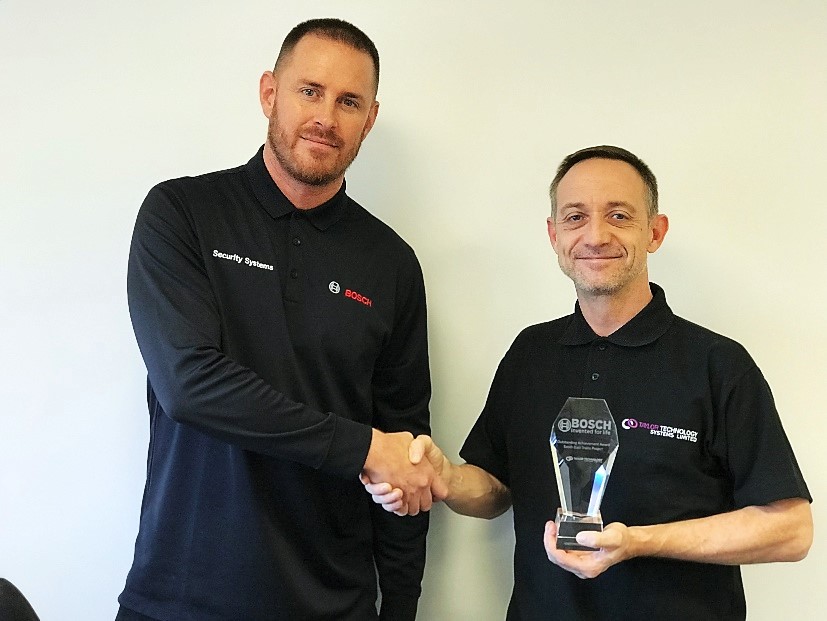 The project completed this year, was to upgrade and exchange all CCTV headend equipment to a Bosch IP platform across 143 individual sites. The installation of Bosch equipment across Southeastern Railways infrastructure enabled the conversion of old Analogue camera technology to an operational IP based system. Bosch trained TTS staff in there BVMS (BOSCH Video Management System) system which allows seamless management of the digital video across IP Networks.
"We are thrilled Bosch has presented us with this award, the project wasn't without it's unforeseeable challenges and complications, however we are proud to have delivered the project to Southeastern both ahead of schedule and within budget" – Engineering Manager, Mark Heath
Southeastern Railways Contract Manager says "TTS faced plenty of challenges during the project, but despite these difficulties, TTS went above and beyond, adjusting the system and finding ways to ensure each obstacle was overcome.
Throughout the entire project, TTS kept us informed of their progress at every stage, working collaboratively with our own staff to come up with resolutions to every challenge. The project had an incredibly tight timescale, and yet despite the obstacles TTS was able to complete the upgrade ahead of schedule and within budget.
TTS' Contract Manager Mark's Heath work on the project was absolutely faultless. He and his team of engineers displayed great product knowledge, competency and professionalism, and Mark in particular went above and beyond, making himself available to us practically 24/7 in order to ensure the project progressed in good time."