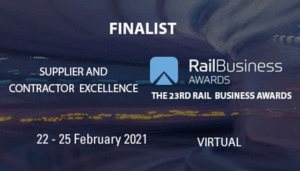 Taylor Technology Systems is proud to be a finalist in the 2021 Rail Business Awards.
The company was a finalist in this year's 'Supplier & Contractor Excellence' category, which recognised businesses who have 'demonstrated excellence within the UK rail supply chain'.
The Rail Business Awards, now in their 23rd year, celebrate excellence and achievements across the UK rail industry, as well as highlighting the hard work of the individuals and teams who work tirelessly across the sector.
Mark Taylor, Managing Director of TTS, said: "We pride ourselves on our excellence and high standards when it comes to designing security and ELECTRICAL safety systems for the rail sector. To once again be a finalist in the Rail Business Awards is in recognition of Taylor's dedication to their customers, and the tireless work of everyone in the business."