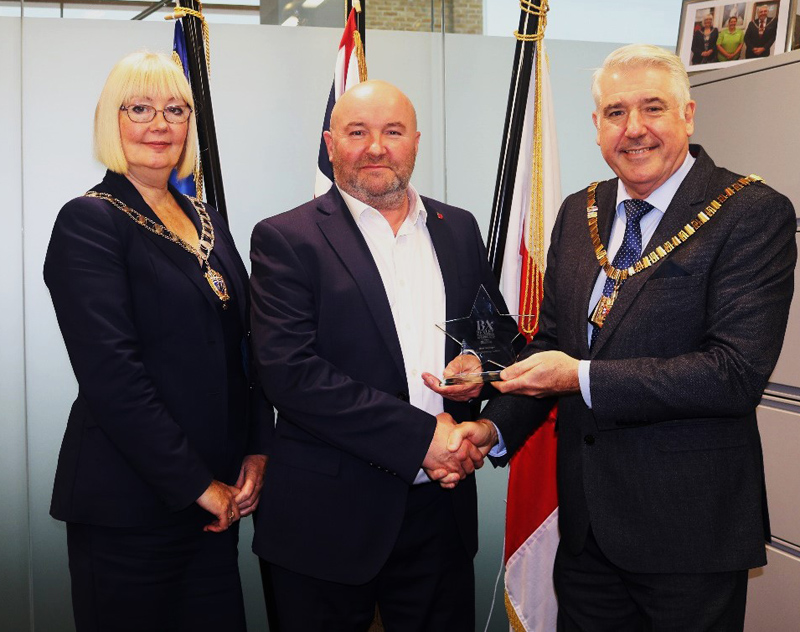 Friday 16th November: The Taylor Technology Systems team was delighted to be invited to the Bexley Civic Offices in Bexleyheath to meet with Councillor Brian Bishop, Mayor of Bexley, and Mayoress Councillor Christine Bishop, on Friday 16th November 2018.
Following Taylors' success at the recent Bexley Business Excellence Awards, where they won the award for 'Best Employer of the Year' and came runner up in the 'Technical Innovation of the Year' category, the Mayor wanted to get to know the successful businesses that had competed a little better.
"It is great to have so many exceptional businesses in our borough. The Bexley Business Awards offered tough competition and Taylor Technology Systems did fantastically well to be judged so highly in both the categories they entered.
"I was particularly impressed with how Taylors manage their workforce, with bi-annual 'stand down' training days and regular opportunities for employees to interact with the company and their management team. It is clear Taylors have real dedication to getting to know their employees as people, not just numbers, and are devoted to ensuring the health and safety of their staff, both in body and mind. It is clear to me that Taylors are highly professional, with a strong ethos of going the extra mile, both with customers and their workforce; being an employee for Taylors is more than just working 9 to 5.
"We are delighted that a local company of humble beginnings have grown from a small office to their current home in Thamesmead, and are now looking to move to an even larger premises within the borough. I am proud of my borough and the people working tirelessly to run successful businesses, such as Taylors, that compete not only within the borough but nationally. It is a credit to the management team and I thank Taylors for the opportunity to meet them and to find out more about the company and its goals."
— Councillor Brian Bishop, Mayor of Bexley