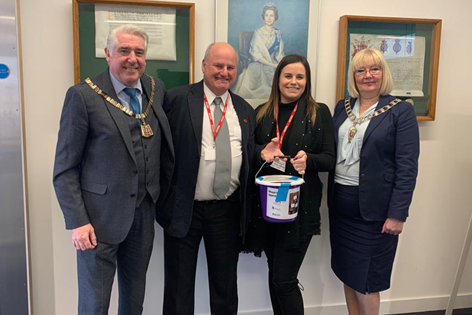 6th March 2019
Taylor Technology Systems has raised money for the Mayor of Bexley's Charity Appeal.
On his appointment as Mayor in May 2018, Councillor Brian Bishop said he wanted to use his charity appeal to raise funds for those charities that support people with mental health issues, and particularly children with Autism.
In recent months, Taylor Technology Systems has been fundraising for the Mayor's appeal among its staff, customers, and in the wider community. The money raised to be divided between Mind in Bexley, and The National Autistic Society's Bexley branch.
Taylor's Office Manager, Lauren Taylor, and HSEQ Manager David Glenister, presented the money to the Mayor at a special event on 13 February, before joining him, his wife, and other local companies at an evening reception.
"We were delighted to be able to assist the Mayor in his charity appeal. Mental health issues affect many people in our local community, and we wanted to do everything we can to help raise awareness of the charities people can turn to for support, and to raise vital funds to help them reach as many people as possible." – HSEQ Manager, David Glenister.
Pictured: Councillor Brian Bishop, Mayor of the London Borough of Bexley, his wife, Councillor Christine Bishop, Taylor Technology Systems' Office Manager Lauren Taylor, and HSEQ Manager David Glenister