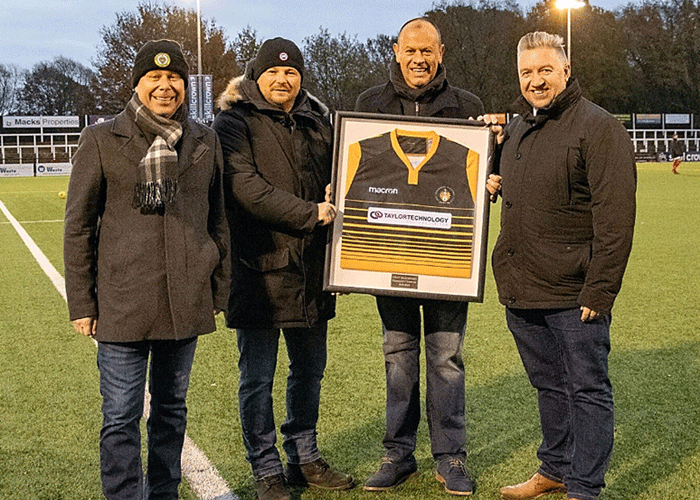 15th February 2019
Taylor Technology Systems are pleased to continue their support as Chief Sponsor of Cray Wanderers FC for the 2018/2019 season.
Taylor Technology Systems have been official shirt sponsors of Cray Wanderers since the start of the 2016-17 season, supporting not only the first team, but the club's 14 youth teams for local children aged 6 to 23.
On Sunday 25th November, Managing Director Mark Taylor was presented with a framed Cray Wanderers shirt as a thank-you from the club for the continued support.
Mark is pictured with Vice-Chairman Dave Francis, Ground Development Director Michael Paye, and Chairman Gary Hillman.
"We are proud to support Cray Wanderers FC, especially at such an exciting time. The recent planning approval to finally build a home ground, so the club can stop wandering, is a vital step in securing the future of the club forever," said Mark Taylor, Managing Director.
"This is an exciting time to be involved with Cray Wanderers, with the possibilities of success on and off the pitch a reality, and to have partners like Taylor Technology Systems adding their support to the club shows we are moving in the right direction, with a successful, award-winning sponsor.
"We thank Mark Taylor and his company for their sponsorship and are sure that more awards and accolades are to follow," added Cray Wanderers Football Club.