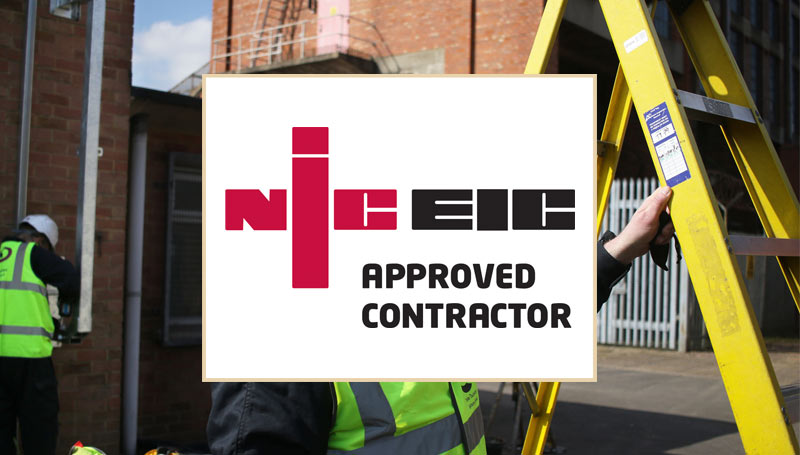 Taylors receive an accreditation after launching a new division for Mechanical & Electrical projects: NIC EIC accreditation for electrical installations.
NIC EIC's Approved Contractor scheme is designed for electrical contractors undertaking design, installation, commissioning and maintenance of electrical installations.
"We are delighted to have received the NICEIC Approved Contractor accreditation, allowing us to offer to our clients a one stop shop for fire, security, Data and electrical"
Brian Wickes, Commercial Director
Who are NICEIC?
The National Inspection Council for Electrical Installation Contracting (NIC EIC) is the UK's leading voluntary regulatory body for the electrical contracting industry. It has been assessing the electrical competence of electricians for nearly sixty years and currently maintains a roll of over 26,000 registered contractors.
Why should I use an NICEIC approved contractor?
As an Approved Contractor registered by NICEIC we are assessed on a regular basis to ensure that we are competent and capable of meeting the relevant technical and safety standards, codes of practice and rules of the Schemes we are registered to, giving you assurance of the quality of our work. NICEIC also offer you a Platinum Promise, which means that if you are not happy with the work that is done by ourselves and they agree that it is deficient they will help to put it right.
How easy is it to become an NCIEIC?
To become an approved contractor, NICEIC engineers visited a number of our sites to assess that all our work complies with the rules relating to enrolment and the national industry standard BS 7671. Competence in inspection, testing, use of instruments and the interpretation of the results.
Visit http://www.niceic.com/ if you would like to find out more about the accreditation